<![if !vml]>

<![endif]>
2008-2009 Wrestling Season Results
Welcome to the Anderson High School Wrestling Team match results and videos provided by the Wrestling Booster Club.  The videos are provided as a courtesy by parents taping matches.  Not all matches were recorded and some are partial recordings.  Those matches that have a video will show the opponent's name in blue.  The video can be launched by clicking on the opponent's name.  You will need a media player that can play Windows Media Files on your PC to watch the video.  A free one is Microsoft's Windows Media Player available at www.windowsmediaplayer.com.
Wrestler's records are shown below and taken from the team's scorebook or as recorded off the videos.  WBD means win by decision.  WBF mean win by a fall.  WBMD means a win by a major decision which is 8 or more points.  WBTF means win by a technical fall which is a 15 point or greater advantage.   3 different wrestler records are presented below; overall, "weight record", and "Region 4 weight record".   The weight record does not include losses when the wrestler wrestled up a weight class and lost, but wins at higher weight classes are included.  The Region 4 record is the wrestler's performance against other varsity wrestlers from Anderson's region in the State (Region 4) at the weight the wrestler will wrestle at in the regional tournament.  This gives an indication of how they will likely do at the Regional meet in San Antonio on February 13th and 14th.  Opponent rankings are taken from the Inside Texas Wrestling website rankings (www.insidetexaswrestling.com).  
Match results are included and calculated as follows.  The final points scored in a decision match as shown with the Anderson score first and opponent's score next.  For wins by a fall (pin), 3 points were added to the score at the time of each pin.  The wrestler that pinned his opponent received an extra 3 points on top of the score at that time as shown on the video because if they didn't get the pin call they would have received another 3 points for a near fall.  Matches with an asterisk (*) are estimated final scores because the video doesn't exist.  The presumption is that there was a takedown worth two points followed by a pin worth three, so many of these matches are estimated as 5-0, particularly for 1st period pins.   The season point totals for each wrestler are on three lines; the first line is their cumulative points for and against, followed by their match average for and against, followed on the last line by their season total point differential.  A positive number indicates the wrestler out pointed his opponents.
If you have additional video, corrected information, opponents' names, non-recorded match results, bad link reports, or any suggestions, please email:  psquier@sbcglobal.net.
Coach Nathan Clift
<![if !vml]>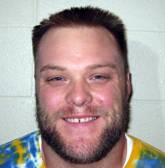 <![endif]>
<![if !vml]>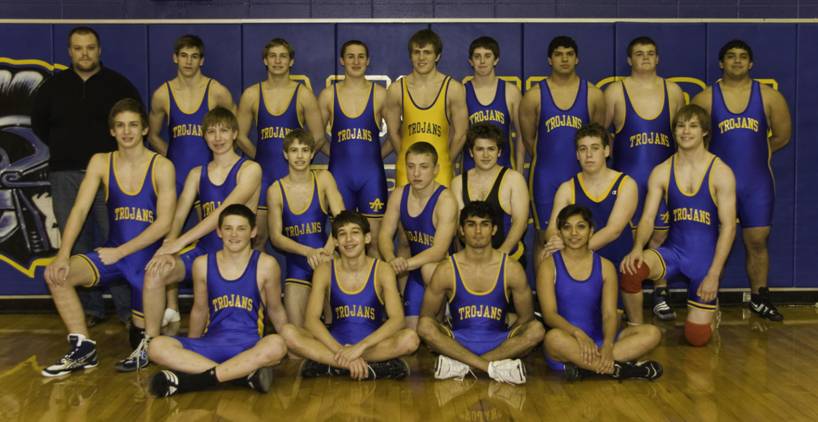 <![endif]>
Region IV Championship Team Results
Another Top 10 finish for the Trojans!
See the Boys Awards Presentation
Team

Points

Finish

Bowie

239

1st

Vista Ridge

199.5

2nd

Westlake

174.5

3rd

Bryan

148.5

4th

La Joya

114.5

5th

SA MacArthur

64

6th

SA Reagan

64

6th

SA Madison

63

8th

Anderson

61.5

9th

McAllen Rowe

60

10th

Churchill

52

11th

CC Carroll

49

12th

McAllen

49

12th

 CC King

44.5

14th

Leander

42.5

15th

56 Schools had a regional qualifier in Region IV

Regional Placers: 

<![if !supportLists]>· <![endif]>Austin Moore, Regional Champion

<![if !supportLists]>· <![endif]>Jack Squier, Regional Runner-up

<![if !supportLists]>· <![endif]>Daisy Gonzalez, 3rd place

<![if !supportLists]>· <![endif]>Lee Nardo, 6th Place
District 27 Championship Team Results
We won our 14th consecutive District Championship!
See the Awards Presentation and Celebration
| | | |
| --- | --- | --- |
| Team | Points | Finish |
| Anderson | 201 | Champions! |
| McCallum | 142 | 2nd |
| Lanier | 113 | 3rd |
| LBJ | 110.5 | 4th |
| Reagan | 55 | 5th |
| Eastside | 0 | 6th |
<![if !vml]>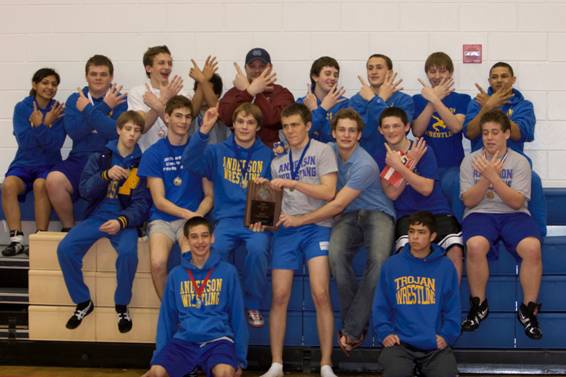 <![endif]>
Team Dual Results
| | | | | |
| --- | --- | --- | --- | --- |
| Date | Trojans | Opponent | Opp Score | Result |
| 11/18/08 | 58 | Texas School for the Deaf | 24 | Win |
| 11/25/08 | 27 | Vista Ridge | 60 | Loss |
| 12/3/08 | 28 | Westlake | 57 | Loss |
| 12/3/08 | 59 | Pflugerville | 20 | Win |
| 12/10/08 | 71 | Lanier | 6 | Win |
| 1/7/09 | 54 | Austin High | 36 | Win |
| 1/14/09 | 72 | McCallum | 12 | Win |
| 1/17/09 | 53 | Pflugerville (down 3 guys) | 24 | Win |
| 1/17/09 | 36 | Travis (down 3) | 42 | Loss |
| 1/17/09 | 15 | MacArthur (down 3 | 66 | Loss |
| 1/17/09 | 54 | Houston Lee (down 3) | 18 | Win |
| 1/21/09 | 57 | Akins | 18 | Win |
| 1/21/09 | 54 | LBJ | 36 | Win |
| 1/23/09 | 33 | McAllen Nikki Rowe (down 3) | 48 | Loss |
| 1/23/09 | 49 | Corpus Christi Ray (down 3) | 33 | Win |
| 1/23/09 | 47 | Sharyland (down 3) | 39 | Win |
| 1/24/09 | 29 | McAllen High (down 2) | 54 | Loss |
| 1/24/09 | 42 | La Joya Juarez-Lincoln (down 2) | 27 | Win |
| 1/31/09 | 50 | Crockett | 18 | Win |
| 1/31/09 | 9 | Bowie (down 4) | 55 | Loss |
| Totals | 897      avg=45 | 20 opponents | 693   avg=35 | 13-7   65% |
Team Tournament Results
Date

Tournament

Location

Points

Finish

Placers

11/22/08

Capital City Classic

Delco Center

88.5

8 of 22

1st – 103, Jordan Krenek

2nd – 140, Austin Moore

4th – 180, Evan Durrant

12/5-6/08

The Woodlands Invitational

Woodlands HS, The Woodlands

35.0

28 of 35

5th – 140, Austin Moore

12/12/08

Russ Pederson Invitational

Johnson HS, San Antonio

91.0

 6 of 22

1st – 140, Austin Moore

2nd – 160, Zeke Solomon

3rd – 103, Lee Nardo

3rd – 152, Jack Squier

3rd – 285, Riley Holmes

12/20/08

Doc Hess Invitational

Bryan HS, Bryan

49.0

21 of 54

2nd – 140, Austin Moore

1/3/08

Akins Eagle Invitational

Delco Center

95.0

9 of 17

1st – 140, Austin Moore

1st – 152, Jack Squier

3rd – 160, Zeke Solomon

1/10/09

Centex Invitational

Delco Center

90.5

11 of 34

1st – 152, Jack Squier

2nd – 140, Austin Moore

4th – 103, Lee Nardo
(Click on their name to advance to their stats)
| | | | | | | |
| --- | --- | --- | --- | --- | --- | --- |
| Weight | Name | Year | Total Points | Points  % | Overall Record | Win % |
| 130 | | Senior, 1st | 87-92 | 49% | 8-9 | 47% |
| 152 | | Sophomore, 1st | 24-37 | 39% | 3-7 | 30% |
| 103/112 | | Junior, 3rd | 263-179 | 60% | 26-17 | 59% |
| 103/112 | | Sophomore, 1st | 149-151 | 50% | 22-7 | 76% |
| 119 | | Freshman | 36-98 | 30% | 4-11 | 27% |
| 125 | | Senior, 1st | 4-35 | 10% | 1-4 | 20% |
| 130 | | Senior, 1st | 120-198 | 38% | 11-18 | 38% |
| 130/135 | | Junior, 2nd | 2-21 | 9% | 1-4 | 20% |
| 135 | | Sophomore, 2nd | 35-104 | 34% | 4-10 | 29% |
| 140 | | Freshman | 0-10 |     0% | 2-2 | 50% |
| 140/145 | | Senior, 4th | 316-80 | 80% | 39-7 | 85% |
| 140/145 | | Sophomore | 1-25 | 4% | 1-4 | 20% |
| 145 | | Freshman | 0-15 | 0% | 1-3 | 25% |
| 145/152 | | Sophomore, 1st | 81-92 | 47% | 10-11 | 48% |
| 152/160 | | Senior, 4th | 394-140 | 74% | 42-10 | 81% |
| 160 | | Sophomore, 2nd | 46-37 | 55% | 4-2 | 67% |
| 160/171 | | Senior, 4th | 227-123 | 65% | 27-13 | 68% |
| 171/180 | | Senior, 4th | 286-201 | 59% | 23-20 | 53% |
| 180/189 | | Sophomore, 2nd | 44-114 | 28% | 5-15 | 25% |
| 180/189 | | Sophomore, 2nd | 127-198 | 39% | 19-18 | 51% |
| 215 | | Freshman | 12-28 | 30% | 6-4 | 60% |
| 215 | | Freshman | 14-70 | 17% | 3-9 | 25% |
| 285 | | Junior, 1st | 34-42 | 45% | 6-5 | 55% |
| 285 | | Sophomore, 2nd | 76-110 | 41% | 14-16 | 47% |
| | | Team | 2378-2200 | 52% | 282-226 | 56% |
Varsity Team Leaders
Overall Wins
| | |
| --- | --- |
| Jack Squier | 42 |
| Austin Moore | 39 |
| Zeke Solomon | 27 |
| Lee Nardo | 26 |
| Evan Durrant | 23 |
| Jordan Krenek | 22 |
| Robbie Tarantolo | 19 |
| Riley Holmes | 14 |
| Armin Salek | 11 |
| Robert Newberry | 10 |
| Daisy Gonzalez | 8 |
| Evan Rakoover | 6 |
| Anthony Gonzales | 6 |
| Bryan Menke | 5 |
| Zach Flores | 4 |
| Bobby Arreola | 4 |
| Calvin Ingram | 4 |
| Claire Lack | 3 |
| Jacob Gonzales | 3 |
| Riley Gravelle | 2 |
| Rodrigo Rodriguez | 1 |
| Gus Alvarez-Teran | 1 |
| Michael Monroe | 1 |
| Fletcher Roberts | 1 |
Winning %
(5 or more varsity wins)
| | |
| --- | --- |
| Austin Moore | 85% |
| Jack Squier | 81% |
| Jordan Krenek | 76% |
| Zeke Solomon | 68% |
| Lee Nardo | 60% |
| Anthony Gonzales | 55% |
| Daisy Gonzalez | 53% |
| Evan Durrant | 53% |
| Robbie Tarantolo | 51% |
Region 4 Wins and %s
at district weight
| | | |
| --- | --- | --- |
| Austin Moore | 31-1 | 97% |
| Jack  Squier | 32-3 | 91% |
| Zeke Solomon | 16-8 | 67% |
| Jordan Krenek | 10-5 | 67% |
| Lee Nardo | 14-8 | 64% |
| Robert Newberry | 10-7 | 59% |
| Anthony Gonzales | 5-4 | 56% |
| Evan Durrant | 16-14 | 53% |
| Daisy Gonzalez | 8-7 |      53% |
| Riley Holmes | 13-13 | 50% |
Matches Wrestled
(excludes forfeit wins)
| | |
| --- | --- |
| Jack Squier | 50 |
| Austin Moore | 43 |
| Evan Durrant | 41 |
| Zeke Solomon | 39 |
| Lee Nardo | 38 |
| Robbie Tarantolo | 32 |
| Riley Holmes | 27 |
| Armin Salek | 24 |
| Jordan Krenek | 20 |
| Robert Newberry | 18 |
| Bryan Menke | 18 |
| Daisy Gonzalez | 17 |
| Zach Flores | 15 |
Total Points
| | |
| --- | --- |
| Jack Squier | 394 |
| Austin Moore | 316 |
| Evan Durrant | 286 |
| Lee Nardo | 268 |
| Zeke Solomon | 227 |
| Jordan Krenek | 149 |
| Robbie Tarantolo | 127 |
| Armin Salek | 120 |
| Daisy Gonzalez | 87 |
| Robert Newberry | 81 |
| Riley Holmes | 76 |
| Calvin Ingram | 46 |
| Bryan Menke | 44 |
Points %
| | |
| --- | --- |
| Austin Moore | 80% |
| Jack Squier | 74% |
| Zeke Solomon | 65% |
| Lee Nardo | 59% |
| Evan Durrant | 59% |
| Calvin Ingram | 55% |
| Jordan Krenek | 50% |
| Daisy Gonzalez | 49% |
Highest Average Offensive Points per Match
| | |
| --- | --- |
| Jack Squier | 7.88 |
| Jordan Krenek | 7.45 |
| Austin Moore | 7.35 |
| Lee Nardo | 7.05 |
| Evan Durrant | 6.98 |
| Zeke Solomon | 5.82 |
| Daisy Gonzalez | 5.12 |
| Armin Salek | 5.00 |
| Robert Newberry | 4.50 |
| Robbie Tarantolo | 3.97 |
Lowest Average Points Allowed per Match
| | |
| --- | --- |
| Austin Moore | 1.86 |
| Jack Squier | 2.80 |
| Zeke Solomon |        3.15 |
| Anthony Gonzales | 3.82 |
| Riley Holmes | 4.07 |
| Bryan Menke | 4.33 |
| Lee Nardo | 4.89 |
| Robert Newberry | 5.11 |
| Evan Durrant | 5.15 |
| Daisy Gonzalez | 5.41 |
Average Match Points Differential
| | |
| --- | --- |
| Austin Moore | 5.49 |
| Jack Squier | 5.08 |
| Zeke Solomon | 2.67 |
| Evan Durrant | 2.18 |
| Lee Nardo | 2.16 |
Pins
| | |
| --- | --- |
| Jack Squier | 25 |
| Austin Moore | 24 |
| Evan Durrant | 16 |
| Robbie Tarantolo | 12 |
| Zeke Solomon | 10 |
| Jordan Krenek | 9 |
| Riley Holmes | 7 |
| Anthony Gonzales | 6 |
| Daisy Gonzalez | 5 |
| Lee Nardo | 5 |
| Zach Flores | 4 |
| Robert Newberry | 4 |
| Bryan Menke | 3 |
| Armin Salek | 2 |
| Calvin Ingram | 1 |
| Evan Rakoover | 1 |
1st Period Pins
| | |
| --- | --- |
| Jack Squier | 13 |
| Austin Moore | 8 |
| Evan Durrant | 8 |
| Zeke Solomon | 6 |
| Anthony Gonzales | 5 |
| Riley Holmes | 5 |
| Robbie Tarantolo | 4 |
| Daisy Gonzalez | 4 |
| Lee Nardo | 2 |
| Jordan Krenek | 2 |
| Zach Flores | 2 |
| Bobby Arreola | 1 |
| Calvin Ingram | 1 |
| Bryan Menke | 1 |
| Evan Rakoover | 1 |
Pins Under a Minute
| | |
| --- | --- |
| Riley Holmes | 0:10 |
| Austin Moore | 0:24 |
| Zeke Solomon | 0:27 |
| Zach Flores | 0:28 |
| Daisy Gonzalez | 0:30 |
| Jack Squier | 0:31 |
| Zeke Solomon | 0:31 |
| Daisy Gonzalez | 0:36 |
| Zeke Solomon | 0:37 |
| Bryan Menke | 0:38 |
| Robbie Tarantolo | 0:40 |
| Evan Durrant | 0:44 |
| Jack Squier | 0:45 |
| Robbie Tarantolo | 0:45 |
| Robbie Tarantolo | 0:46 |
| Jack Squier | 0:47 |
| Anthony Gonzales | 0:49 |
| Jack Squier | 0:51 |
| Calvin Ingram | 0:53 |
| Daisy Gonzalez | 0:59 |
Technical Fall Wins (15 point win)
| | |
| --- | --- |
| Lee Nardo | 5 |
| Evan Durrant | 4 |
| Jack Squier | 2 |
| Daisy Gonzalez | 1 |
| Armin Salek | 1 |
| Austin Moore | 1 |
| Zeke Solomon | 1 |
Major Decisions (8 or more points)
| | |
| --- | --- |
| Lee Nardo | 4 |
| Jack Squier           | 3 |
| Austin Moore | 2 |
| Zeke Solomon | 2 |
| Evan Durrant | 1 |
| Robbie Tarantolo | 1 |
17 or more Points in a Match
| | | |
| --- | --- | --- |
| Armin Salek | 12/10/08 | 28 |
| Evan Durrant | 2/7/09 | 22 |
| Lee Nardo                 | 1/31/09 | 21 |
| Bobby Arreola | 1/21/09 | 21 |
| Calvin Ingram | 1/23/09 | 21 |
| Evan Durrant | 1/10/08 | 21 |
| Evan Durrant | 11/22/08 | 19 |
| Daisy Gonzalez | 2/13/09 | 18 |
| Jack Squier | 1/31/09 | 18 |
| Zeke Solomon | 1/9/09 | 18 |
| Robert Newberry | 2/7/09 | 17 |
| Robert Newberry | 1/7/09 | 17 |
| Jack Squier | 1/3/09 | 17 |
| Jack Squier              | 12/20/08 | 17 |
| Evan Durrant | 1/23/09 | 17 |
Shutout Decisions
(full six minute match shutouts)
| | |
| --- | --- |
| Austin Moore | 3 |
| Jack Squier | 1 |
Matches with no points allowed (includes Fall wins)
| | |
| --- | --- |
| Jack Squier | 22 |
| Austin Moore | 19 |
| Zeke Solomon | 11 |
| Evan Durrant | 11 |
| Lee Nardo | 6 |
| Anthony Gonzales | 5 |
| Daisy Gonzalez | 3 |
| Robbie Tarantolo | 3 |
| Riley Holmes | 3 |
| Jordan Krenek | 2 |
| Zach Flores | 1 |
| Robert Newberry | 1 |
| Calvin Ingram | 1 |
| Bryan Menke | 1 |
| Evan Rakoover | 1 |
Least # of Times Pinned
| | |
| --- | --- |
| Austin Moore | 0 |
| Jack Squier | 2 |
| Jordan Krenek | 2 |
Versus Top Opponents
Weight

Name

Record

Win %

% of losses to Top Opp

Versus Regional Qualifiers

Versus State Qualifiers

Record

Win %

Record

Win %

103/112

Lee Nardo

26-17

60%

29%

8-5

62%

0-3

0%

103/112

Jordan Krenek

22-7

76%

57%

5-4

56%

0-3

0%

130

Armin Salek       

11-18

38%

56%

0-10

0%

0-3

0%

140

Austin Moore

39-7

85%

100%

11-1

92%

5-7

42%

145

Robert Newberry

10-11

48%

45%

1-5

17%

0-0

0%

152

Jack Squier

42-10

81%

100%

17-6

74%

2-8

20%

160

Zeke Solomon

27-13

68%

62%

2-7

22%

0-5

0%

171

Evan Durrant

23-20

53%

55%

3-11

21%

1-4

20%

180/189

Robbie Tarantolo

19-18

51%

61%

3-11

0%

0-3

0%

285

Riley Holmes

14-16

47%

44%

0-6

0%

0-2

0%

202-121

63%

50-66

43%

8-38

17%
130
<![if !vml]>
<![endif]>
Date

Opponent

School

Weight

Location

Result

Total Points

Comments

2-27-09

Keller Central

128

State Championships

LBD 5-16

5-16

Finishes a great first year of wrestling!

2-27-09

Katy

128

State Championships

LBF 1:08

1-7

Opponent came in 5th place in State!

2-14-09

Tournament

128

Regionals - SA

3rd Place

Daisy wins 3rd in Region IV – Going to State!!!

2-14-09

McAllen Memorial

128

Regionals – SA

WBF 2:40

7-2

Daisy beats the 4th seed to win 3rd place!

2-14-09

Weslaco

128

Regionals – SA

WBF 1:34

5-1

2-14-09

Dominque Farrera

SA Roosevelt

128

Regionals – SA

LBF 0:41

0-5

Daisy loses to regional champion

2-13-09

CC Ray

128

Regionals – SA

WBD 5-2

5-2

Daisy beats the #2 regional seed!

2-13-09

PSJA

128

Regionals – SA

WBTF 18-1 4:19

18-1

Dominant technical fall win!

2-7-09

Tournament

128

Delco Center

1st Place

Daisy is the District 27 Champion!

2-7-09

LBJ

128

Regionals – SA

WBD 9-5

9-5

12-13-08

Pflugerville

138

SA Johnson

LBF 2:10

3-5

Opponent was State Qualifier

12-13-08

Sydnie Tafolla

Churchill

138

SA Johnson

WBF 0:59

5-0

12-13-08

SA Roosevelt

138

SA Johnson

LBD 9-15

9-15

Opponent was State Qualifiere

12-10-08

L Monroy

McCallum

138

Lanier

WBF 0:30

5-0

12-05-08

Brazoswood

138

Woodlands

LBMD 4-12

4-12

12-03-08

Pflugerville

138

Anderson

LBF 2:30

0-5

Opponent was State Qualifier

11-22-08

LBJ opponent?

138

Capital Classic

LBF 3:36

6-11

11-22-08

SA MacArthur

138

Capital Classic

WBF 0:36

5-0

11-22-08

Judith Jaramillo

LBJ

138

Capital Classic

LBF 1:00

0-5

Overall

8-9

87-92

49%

Weight

8-9

Region 4

8-9
152
<![if !vml]>

<![endif]>
Date

Opponent

School

Weight

Location

Result

Total Points

Comments

1-21-09

Akins

138

Anderson

WBF 1:13

5-0

Shutout first period pin!

1-17-09

Vanessa Garcia

MacArthur

128

McCallum Duals

LBF 0:46

0-5

1-17-09

Latea Keeler

Shoemaker

138

McCallum Duals

WBF 1:00

5-0

Shutout first period pin!

1-17-09

Allison Esquivel

Pflugerville

138

McCallum Duals

LBF 1:00

0-5

1-17-09

Shoemaker

138

McCallum Duals

WBF 0:46

5-0

Shutout first period pin!

12-13-08

Carley Tipton

SA Reagan

168

SA Johnson

LBF 1:30

0-5

Claire comes in 2nd at Pederson Invitational

12-10-08

McCallum

148

Lanier

LBD 3-4

3-4

12-03-08

Pflugerville

148

Anderson

LBF 0:56

0-5

11-22-08

Kumary Giron

LBJ

148

Capital Classic

LBD 6-8

6-8

11-22-08

Trenita Frazier

SA Roosevelt

148

Capital Classic

LBF 0:50

0-5

Overall

3-7

24-37

39%

Weight

3-7

Region 4

3-7
103/112
<![if !vml]>

<![endif]>
Date

Opponent

School

Weight

Location

Result

Total Points

Comments

2-14-09

Regional Championship

Tournament

103

Blossom Center

6th place!

Lee takes 6th place at regional tournament!!!

2-14-09

MacArthur

103

Regionals – SA

LBD 0-7

0-7

Opponent places 4th at regionals! (wins wrestle back)

2-14-09

Bryan

103

Regionals – SA

LBF 4:00

4-8

2-14-09

CC Carroll

103

Regionals – SA

WBD 10-3

10-3

Regional qualifier win

2-13-09

Weslaco

103

Regionals – SA

WBD 3-1

3-1

Regional qualifier win

2-13-09

Vista Ridge

103

Regionals – SA

LBMD 2-13

2-13

Opponent placed 2nd at regionals!, State Qualifier

2-13-09

Weslaco East

103

Regionals – SA

WBD 5-3

5-3

Regional qualifier win

2-7-09

Tournament

103

Delco Center

1st place!

Lee is District 27 Champion!!

2-7-09

McCallum

103

Districts – Delco

WBF 2:38

15-0

Dominating win for repeat District Championship!, regional qualifier

1-31-09

Crockett

112

Burger Center

WBD 21-16

21-16

Avenges earlier pin

1-24-09

Juarez-Lincoln

112

La Joya

LBF 4:40

9-5

Was up 9-2 and got stuck

1-24-09

McAllen

103

La Joya

LBF 3:05

7-4

Was up 7-1 and got stuck

1-23-09

Sharyland

112

La Joya

LBD 2-8

2-8

Wrestled up

1-23-09

Corpus Christi Ray

112

La Joya

WBD 6-1

6-1

Wrestled up

1-23-09

Mr. Forfeit

McAllen Rowe

112

La Joya

WBFF

0

Dual forfeit win

1-21-09

Jesse Rocha

Akins

103

Anderson

WBMD 12-4

12-4

Major win, regional qualifier

1-21-09

Mr. Forfeit

LBJ

103

Anderson

WBFF

0

Dual forfeit win

1-17-09

Mr. Forfeit

Houston  Lee

103

McCallum Duals

WBFF

0

Dual forfeit win

1-17-09

SA MacArthur

103

McCallum Duals

LBF 3:12

2-5

State Qualifier, finished 5th in region, won wrestle back

1-17-09

Travis

112

McCallum Duals

LBD 0-5

0-5

Wrestled up

1-17-09

Pflugerville

112

McCallum Duals

WBTF 15-0 5:49

15-0

Wrestled up and got shutout technical pin!

1-14-09

McCallum

112

Anderson

WBF 2:55

7-3

Wrestled up and pinned!

1-10-09

Churchill

103

Centex –Delco

LBD 1-7

1-7

Lee takes 4th place at Centex!!!

1-10-09

SA Christian

103

Centex - Delco

WBMD 14-6

14-6

3rd major decision in a row!!!

1-10-09

Akins

103

Centex - Delco

WBMD 13-3

13-3

Major decision, regional qualifier

1-10-09

Travis

103

Centex - Delco

WBMD 10-2

10-2

Major decision, regional qualifier

1-9-09

Churchill

103

Centex - Delco

LBD 5-9

5-9

1-9-09

Dallas Jesuit

103

Centex - Delco

WBTF 16-1

16-1

Tech pin!!!

1-7-09

Mr. Forfeit

Austin High

103

Anderson

WBFF

0

Forfeit win in dual meet

12-20-08

Petey Martinez

Katy

103

Doc Hess, Bryan

LBD 5-7

5-7

guessing on score

12-20-08

Houston Lamar

103

Doc Hess, Bryan

WBD 8-6 OT

8-6

Overtime win!

12-20-08

Churchill

103

Doc Hess, Bryan

LBF 4:19

4-13

12-13-08

SA Reagan

103

SA Johnson

WBD 8-4

8-4

Lee wins 3rd place at Pederson Invitational !!!

12-13-08

Judson

103

SA Johnson

WBF 1:35

5-0

12-13-08

Victoria Memorial

103

SA Johnson

LBF 5:27

5-11

Unintentionally pins himself after being up 11-2

12-13-08

John Corkran

Roosevelt

103

SA Johnson

WBF 2:49

8-2?

12-10-08

Lanier

112

Lanier

WBTF 16-0

16-0

Impressive shut-out technical pin (Lee's 2nd), regional qualifier

12-6-08

Cinco Ranch

103

Woodlands

LBD 0-7

0-7

12-5-08

Arlington

103

Woodlands

WBF 1:34

7-0

12-5-08

College Park

103

Woodlands

LBF 0:36

0-5

Came in 2nd at Woodlands

12-3-08

Pflugerville

103

Anderson

WBD 6-4

6-4

12-3-08

Westlake

103

Anderson

WBTF 15-0

15-0

Impressive shut-out technical pin (very hard to do)

11-22-08

Crockett

112

Capitol Classic

LBF 5:42

2-7

11-22-08

Bryan

112

Capitol Classic

LBD 0-6

0-6

Regional qualifier

11-19-08

Mr. Forfeit

TX Sc for Deaf

112

Anderson

WBFF

0

Dual forfeit win

Overall

26-17 = 60%

268-186

59%

@ 103lbs

19-12 = 61%

103 in Region 4

14-8 = 64%
Jordan Krenek, Sophomore
103/112
<![if !vml]>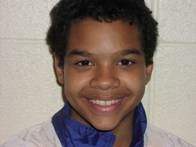 <![endif]>
Date

Opponent

School

Weight

Location

Result

Total Points

Comments

2-14-09

Regional Champship

Tournament

112

Blossom Center

7-8th Place

Wrestling up a weight class, Jordan places in 7-8th place!

2-14-09

PSJA

112

Regionals – SA

LBF 0:28

0-5

Opponent came in 6th at regionals!

2-13-09

Lanier

112

Regionals – SA

WBF 2:41

11-6

2-13-09

Akins

112

Regionals – SA

LBF 2:39

0-12

Regional Champion and State qualifier

2-13-09

Ellison

112

Regionals – SA

WBD 6-4

6-4

2-7-09

Tournament

112

Delco Center

1st Place

Jordan is District 27 Champion!

2-7-09

McCallum

112

Districts – Delco

WBF 4:00

16-7

Pin for 1st place win!, regional qualifier

1-31-09

Bowie

103

Burger Center

WBF 1:51

5-0

First period shutout pin!

1-31-09

Mr. Forfeit

Crockett

103

Burger Center

WBFF

0

Dual forfeit win

1-24-09

Juarez-Lincoln

103

La Joya

WBF 2:47

10-2

1-24-09

Mr. Forfeit

McAllen

112

La Joya

WBFF

0

Dual forfeit win

1-23-09

Mr. Forfeit

Sharyland

103

La Joya

WBFF

0

Dual forfeit win

1-23-09

Mr. Forfeit

Corpus Christi Ray

103

La Joya

WBFF

0

Dual forfeit win

1-23-09

McAllen Rowe

103

La Joya

LBD 7-16

7-16

3rd Place in Region, and State qualifier

1-21-09

Akins

112

Anderson

LBF 5:14

3-17

1st Place in Region and State qualifier

1-21-09

Mr. Forfeit

LBJ

112

Anderson

WBFF

0

Dual forfeit win

1-21-09

Mr. Forfeit

Houston Lee

112

McCallum Duals

WBFF

0

Dual forfeit win

1-17-09

SA MacArthur

112

McCallum Duals

WBD 12-8

12-8

Wrestled up and won!

1-17-09

Travis

103

McCallum Duals

WBF 5:27

13-6

Regional qualifier

1-17-09

Mr. Forfeit

Pflugerville

103

McCallum Duals

WBFF

0

Dual forfeit win

1-14-09

McCallum

103

Anderson

WBF 0:37

2-0

Shutout first period pin!, regional qualifier

1-10-09

Churchill

112

Centex –Delco

LBMD 2-15

2-15

Wrestled up to 112, regional qualifier

1-9-09

Hendrickson

112

Centex –Delco

WBF 3:49

9-4

Wrestled up to 112

1-9-09

Lanier

112

Centex - Delco

WBD 16-9

16-9

Wrestled up to 112, regional qualifier

1-9-09

Travis

112

Centex - Delco

LBF 5:36

4-19

Wrestled up to 112

1-07-09

Mr. Forfeit

Austin High

112

Anderson

WBFF

0

Dual forfeit win

12-03-08

Mr. Forfeit

Pflugerville

112

Anderson

WBFF

0

Dual forfeit win

12-03-08

Westlake

103

Anderson

LBF 3:04

0-8

11-22-08

Morton Ranch

103

Capital Classic

WBD 8-7

8-7

Jordan wins the Capital Classic Tournament (his first!)

11-22-08

SA MacArthur

103

Capital Classic

WBF 2:50

10-2

11-19-08

TX Sch for Deaf

103

Anderson

WBF 2:18

15-4

First match and first pin!

Overall

22-7 = 76%

149-151

50%

                                                

@ 112lbs

11-5 = 69%

112 in Region 4

10-5 = 67%
Zach Flores, Freshman
119
<![if !vml]>
<![endif]>
Date

Opponent

School

Weight

Location

Result

Total Points

Comments

2-13-09

Bryan

119

Regionals – SA

LBF 2:17

0-7

Zach has a GREAT FRESHMAN YEAR!

2-13-09

Greg Gogonas

Bowie

119

Regionals – SA

LBF 0:26

0-5

Regional Champion and "most outstanding wrestler"

2-7-09

Tournament

119

Delco Center

2nd Place

Zach is District 27 Runner-Up!

2-7-09

Alex Matos

McCallum

119

Districts – Delco

LBF 1:52

0-5

Opponent is 2x district champ

2-7-09

LBJ

119

Districts - Delco

WBF 3:43

7-4

1-31-08

Crockett

119

Burger Center

LBF 3:46

1-10